ying across Lebanon's post-war, troubled, and unique landscape are emblematic Ottoman and colonial-era houses, exhibiting part of the country's national identity. But many of the capital's most picturesque streets and historical buildings are now laid to waste, gutted by the mass explosion on August 4 last year, caused by a vast poorly-stored stock of ammonium nitrate left in a warehouse at the port for years, unsecured, despite repeated warnings.
According to the World Bank, the Beirut port explosion caused $8 billion in economic and physical damages. International donors including the EU and the World Bank have also laid out a $2.5 billion response plan to the devastation that has left some 300,000 homeless. Over the last six months, the Lebanese people have taken action and stepped up to help each other, from opening their homes to the homeless, taking to social media to start initiatives, delivering hot meals and supplies, or clearing the rubble and wreckage blocking the streets in residential, half-demolished neighbourhoods.
One such initiative born of this, is Bebw'Shebbek, with the aim of rebuilding and replacing damaged or destroyed doors and windows in Beirut. "When the blast took place, we only had numbers to work with—indescribable damage to our city quantified by the 80,000 homes destroyed. We quickly moved forward with our mandate, but it wasn't just us, there were many other NGOs with us on the ground that worked fast as well and whose rebuilding efforts have helped many families following the blast," says Mariana Wehbe, one of the initiative's founders.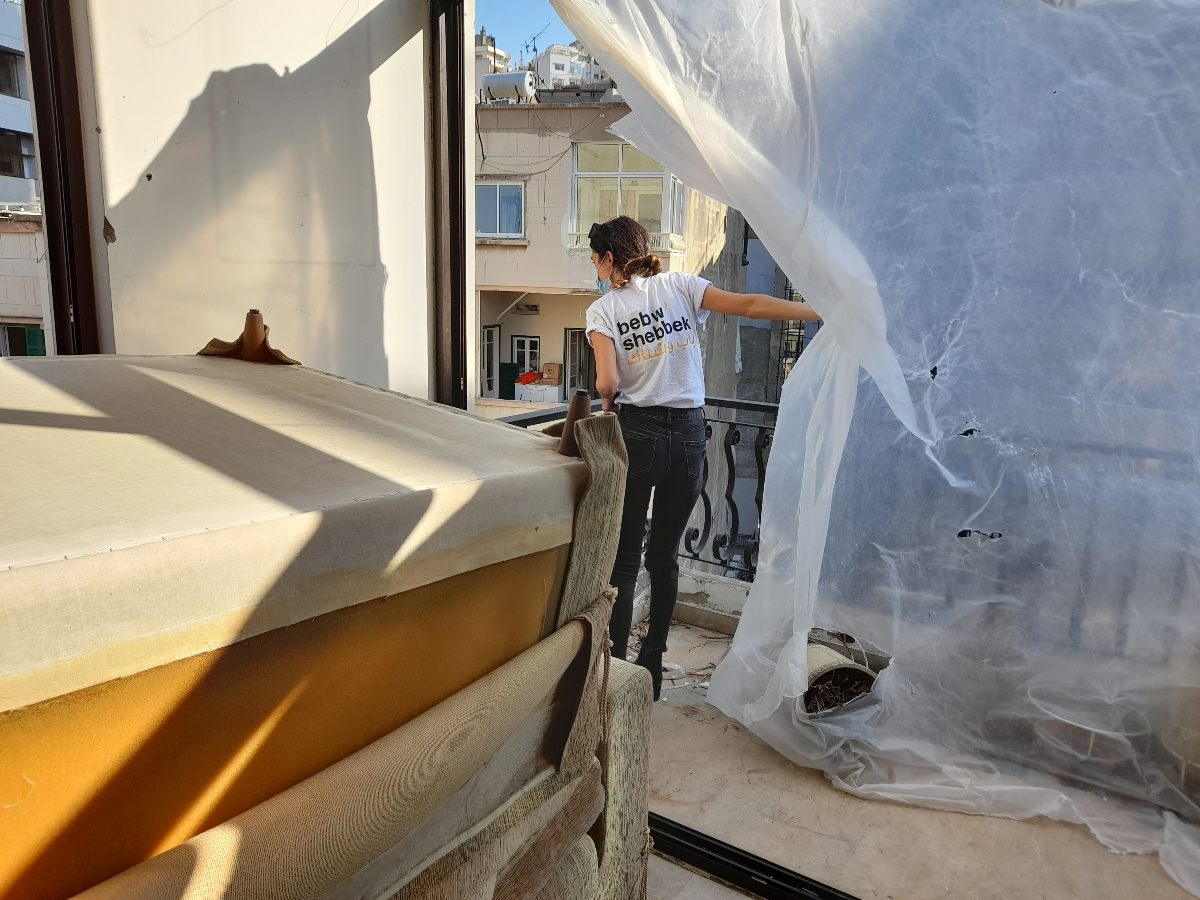 Image courtesy of Bebw'Shebbek
"We had originally done our calculations at 150 homes per month, without factoring in the imposed COVID-19 lockdowns. With 773 homes currently in the pipeline, we may not reach 3,000 but we definitely plan on hitting the 1,000 mark when we're done. Irrespective of the number, our mission remains the same: our mandate is complete once all the families return home."
So far, the founder says that the local initiative has fixed and repaired almost $1 million worth of damages and completed 642 homes, all amid ongoing hurdles such as the COVID-19 pandemic, political and economic fallout, and capital control.
Houses in the historic and touristic neighbourhoods of Gemmayzeh and Mar Mikhael—where elderly and young artists predominately live, in close proximity to the port—were particularly damaged by the explosion. According to the country's culture minister, of the 576 heritage buildings surveyed in the wake of the deadly blast, including 331 in the port's vicinity, 86 were severely damaged, 44 risk complete collapse and a further 41 could partially fall down.
In the aftermath of the blast, Wehbe said that there were 85 classified buildings from the 1920s, 40s, 60s, and 70s on the verge of collapse, at the time. That number has now gone down.
The initiative was started by close friends and business associates in PR and interior design, Wehbe and Nancy Gabriel. Both of the founders' homes were also severely damaged.
"We were able to finish some 500 homes by December. When the weather started changing, we definitely did get worried, not just for the rain but the cold too," Gabriel says. "We faced two storms that tested the work we've done but to date we haven't received any complaints yet on the quality of our work. We're super proud of this because it means that even during crisis mode and when we had over 30 different contractors for each of our team, the quality of work still held strong."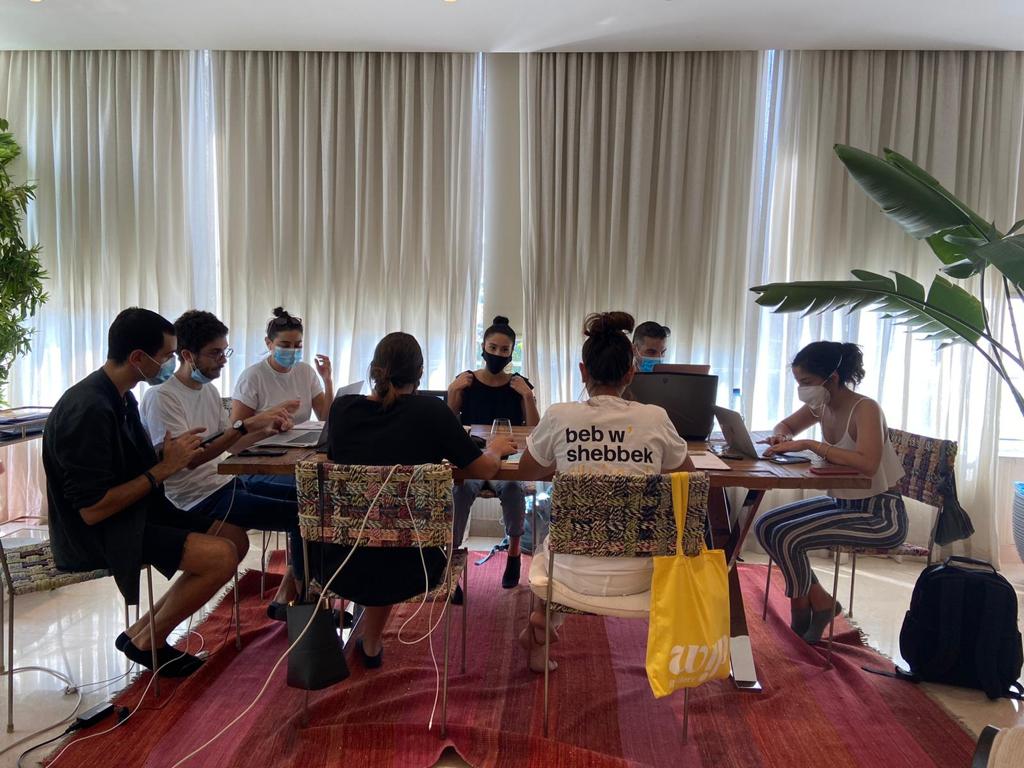 Image courtesy of Bebw'Shebbek
Headquartered in the blast-hit Mar Mikhael district, Bebw'Shebbek, which works independently and is not affiliated with any religious or political group, heavily relies on skilled volunteer architects, civil engineers, and other industry professionals, with 12 groups comprising of three to 20 volunteers responsible for the execution of homes deployed to them along with their committed contractors.
"It was very clear that we needed a lot of teams on the ground. We needed an army. We needed to streamline how the information comes into us, how we deploy it and dispatch it, what happens and how it comes back to us for approvals process, documentation, transparency, and implementation of the homes. It literally took us three days," Wehbe says.
At the same time, Bebw'Shebbek has ensured that it preserves the history and origin of Lebanon's original architecture by repairing the existing doors and windows where possible. A typical home takes between 10 to 12 days to repair and reconstruct but more traditional homes with doors and windows of specific designs and materials can take a month "to preserve the architecture and by extension, the essence of the home." If repairs are not possible, the designs are reproduced from scratch using material sourced through local suppliers.
"The area is loaded with history and most of the houses are classified. And even if they're not classified, they are the testimony of our cultural inheritance and we want to keep that. We want to preserve that. We've been always fighting for that even before the blast, to keep our architectural inheritance," says Gabriel. "So, it's very important for us to stay true to ourselves, our beliefs and our culture."
The small grassroots NGO has also pivoted new projects such as repairing the doors and windows of schools that were able to remain open, and supporting the funding of three playgrounds in collaboration with non-profit organizations BeBeirut and Let's Play.
As with other initiatives, Bebw'Shebbek relies heavily on donations. The founders say it has received more than $813,000 in donations so far. Impact Lebanon and the Fondation de France donated $500,000 and $119,181 respectively, while $50,000 was donated by The Eduarte Courtot Foundation. Other donations and fundraisers include Art Auction Lebanon ($41,000), and the Opera Gallery ($13,000 and $37,000 in check).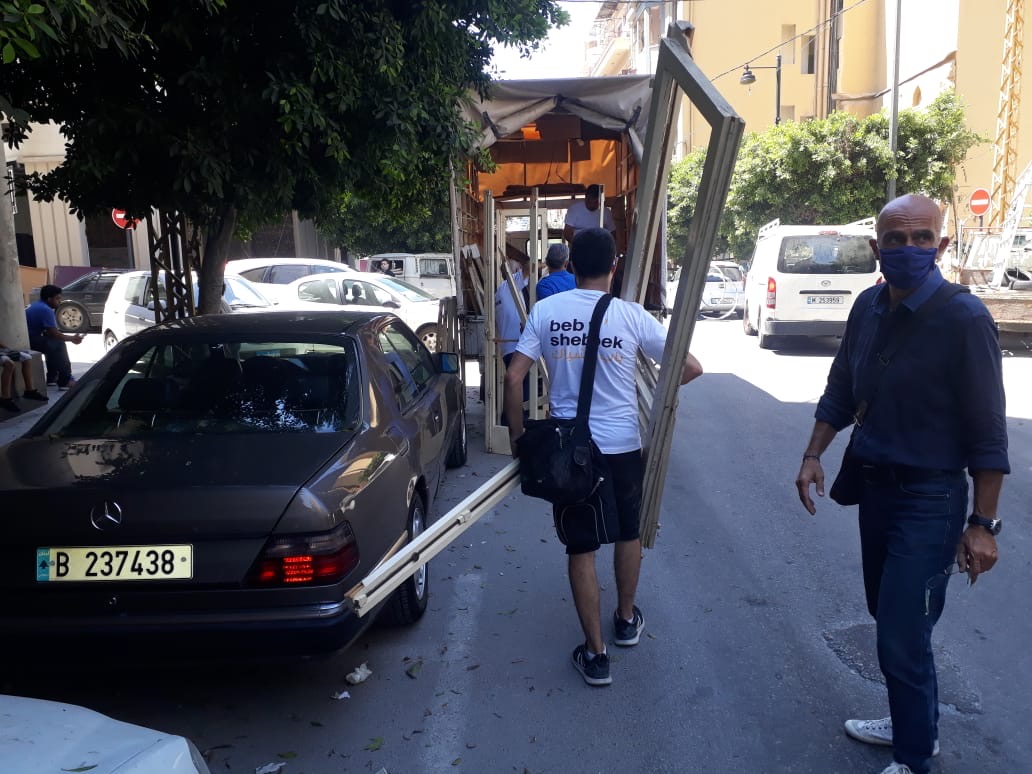 Image courtesy of Bebw'Shebbek
Foreign powers, international organizations, and Lebanese volunteers have taken the lead in rescue efforts. While many are desperate to leave pandemic-hit Lebanon, young people have been leading volunteer efforts and filling the vacuum left by the corrupt political system they blame for the country's current problems, bringing hope to an economy on the brink of ruin.
"What is keeping me going, besides the fact that helping people brings a smile back to their faces and in their homes is this new generation. They deserve much better. And we have to stand by their sides," says Gabriel.
Before the blast, Lebanon was already suffering its worst downturn in decades, plunging a portion of the middle class into poverty and trapping people's dollar savings in the banks.
"We keep on saying we love Lebanon, but this is the time to prove it. To get out of your comfort zone and give some time of yourself, your life, and give it to those who really need help today," says Gabriel.
You can find the original article here