The 93rd Academy Awards were always going to be very different. And they were just about as good as they could have been, given the context of Covid.
There were obvious, physical changes to the ceremony, such as staging the awards themselves at a different venue – a train station – with far fewer people present and nominees popping up around the world at live camera points.
Then there was the tone, which was as serious and muted as most of the best picture nominees.
That tone wasn't all down to Covid. The recent conviction of a white police officer for killing George Floyd also hung in the air at an Oscars in which black talent like Daniel Kaluuya, Tyler Perry and Regina King all played significant parts.
The show began with King walking into Union Station from a sunny LA boulevard and making her way to the stage, the camera following her all the way in a live tracking shot that echoed one of the most famous entrances in cinema history, when Ray Liotta enters the Copacabana bar in Goodfellas.
For the third year in a row, the Oscars had no host, but King's job was to kick things off. In a "normal" year, this would be the time for jokes, a bit of a routine, maybe even a song and dance number. Not this time.
Almost immediately, the Oscar-winning actress and director made reference to the verdict in Minneapolis – saying if it had gone the other way, "I would have traded my heels for marching boots".
She spoke about how hard the year had been, but also how films had made people feel less isolated. She also had to make clear that while the people in the venue were maskless, they had been tested, they were socially distanced, and they would be putting their masks back on if they moved around.
Then she launched into the awards. It was suddenly notable that no clips of the nominated performances were being played – merely some factlets read out about each of the nominees.
It meant things moved quickly. Director Steven Soderbergh had clearly thought hard about how to keep up the pace, and wasn't afraid to make some major changes to the usual format.
In his movies, Soderbergh is known for quick cutting – indeed perhaps it was part of the reason he was hired to run the Oscars ceremony, and it was very much in evidence through the evening, to the extent that some shots weren't properly in focus as the broadcast bounced from LA to Seoul to London and even Kilkenny in Ireland.
Soderbergh wasn't trying to pretend things were normal. He had gone his own way, and the venue looked great, with a 1930s jazz club ambience and paintings of the nominees.
However, at the British Film Institute in London, the sparse, brightly-lit crowd of potential UK-based winners did look a bit like they were 20 minutes early for a Sunday matinee, when the screen is still showing static ads for a local restaurant.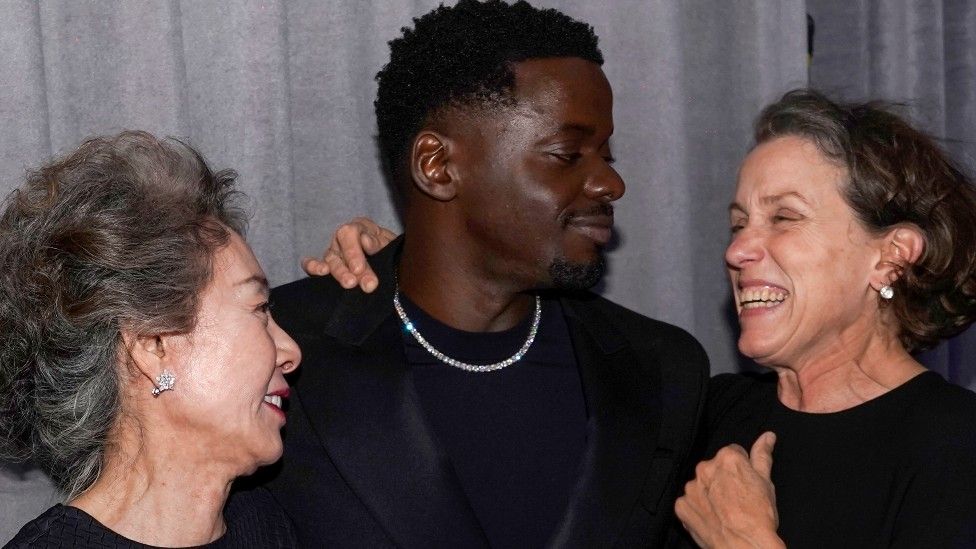 At times, the stripped-back, raw visuals worked to enhance the feeling of being right there. Either way, the tone was maintained right the way through. Intimate but muted.
Despite the well-spaced, massively reduced audience, there were some passionate speeches. Kaluuya spoke about the history of racism, urging: "When they play divide and conquer, we say, 'Unite and ascend.'"
Travon Free, winning for best live action short film, began his: "Today, the police will kill three people. Tomorrow, the police will kill three people."
One other change was that there was no music to play off winners when they went on too long. Perhaps Soderbergh didn't want to risk it sounding tactless if it interrupted important points being made from the stage, or perhaps it was simply too difficult to co-ordinate with all the different winners around the globe.
Either way, it did lead to some – actually, quite a lot – of rambling speeches, and a world record might have been set for the cumulative number of people thanked throughout the ceremony.
Light-hearted moments
Meanwhile, the order of the awards was also changed considerably – with best director, usually the penultimate prize, given out early. Nomadland's Chloe Zhao took it, becoming only the second woman ever to do so, and the first of colour.
There were still a couple of light-hearted moments – Glenn Close performing The Butt Dance during a mini trivia quiz about Oscar-winning music; best supporting actress Yuh-jung Youn asking Brad Pitt to be in her next film; and Kaluuya's mum asking "What is he talking about?" when he mentioned his parents having sex.
But for the most part, like many of the films being honoured, it was quiet, serious and low-key.
In the way that the best movies give back to you what you bring to them, these awards reflected the times in which we live.
It wasn't full of energy, but after a year of dealing with all this, who is?
You can find the original article here